Hans J. Tanke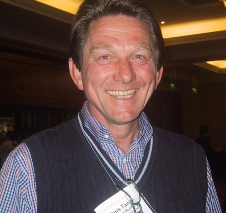 Hans J. Tanke is Professor and Head of the Department of Molecular Cell Biology and Laboratory of Cytochemistry and Cytometry at Leiden University Medical Center.
Curriculum Vitae
Name: Hans J. Tanke
Born: 26-02-1952
Position: Head, Department of Molecular Cell Biology
Laboratory of Cytochemistry and Cytometry
Leiden University Medical Center
Wassenaarseweg 72, 2333 AL Leiden, The Netherlands
1977
Doctoral Degree in Biochemistry, Utrecht University (with Immunology and Clinical Chemistry)
Start Ph.D. study Leiden University
1978
Three months training at Lawrence Livermore Laboratories; Livermore CA, USA
1982
Ph.D., University of Leiden, The Netherlands
Cytochemical and Cytometric Methods for DNA and RNA analysis (Promotor: P. van Duijn, J.S. Ploem)
Post Doctoral Training
1982 – 1988
Laboratory of Cytochemistry and Cytometry, Leiden
1982
Department of Pathology, Innsbruck (2 months)
1987 – 1994
Part time Consultant at the Hochschule Hannover
Professional experience
1988 – 1993
Associate Professor; University of Leiden
1990
Visiting Professor; University of Bologna
1991 – 1997
Visiting Professor at VUB Brussels
1993-present
Professor of Cell Biology (Analytical Cytology)
1997-present
Chairman Department of Molecular Cell Biology
Honors and awards
1982: International "C.E. Alken-Preis" for urological Research
1987: "Bisschof-Preis, German Urology" (as co-author)
1989: PIONIER grant; NWO; the Netherlands
Memberships
Member Council International Society for Analytical Cytology
Member Council Society for Analytical Cellular Pathology
Editorial boards
Cytometry
Cellular Oncology
Journal of Microscopy
Research fields
His present research field relates to the study of the molecular composition of cells and chromosomes, using fluorescence labeling technology (FISH, immunocytochemistry, GFP) and (automated) digital microscopy, in order to unravel the molecular mechanisms that determine normal and abnormal cell function. A special research focus is the analysis of molecular interactions in living cells using CSLM, FRAP and FRET-FLIM techniques. In collaboration with clinical departments developed methodology such as COBRA-FISH and genomic arrays are applied to characterize genome instabilities as occur in genetic and acquired disorders.
Scientific publications, lectures, dissertations
Publications (first author and co-author): more than 300
Invited Scientific lectures in the last 5 years: more than hundred, half of which internationally
Promotor at the occasion of 20 dissertations