Carleton Stewart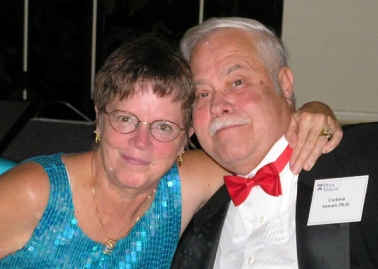 Please tell us about a significant event or moment in Cytometry that you experienced, in a lab, at a conference, or at an informal gathering.
Thomas B. Tomasi Achievement Award, All Star Night-2002. This award is presented to someone each year who has contributed in a significant and noteworthy way to Cancer research, Diagnosis and Treatment.
What do you feel was your major contribution to the field of Cytometry?
The development of strategies in multiparameter measurements by flow cytometry.
What drove you to this achievement?
No other technology is capable of rapidly measuring so many properties on or inside a single cell, one at a time, than cytometry. Cells exhibiting selected properties can also be sorted for further study. While this capability started using flow cytometry, new instruments are now being developed to include image cytometry. In addition, hybrid instruments that include both flow and image capabilities are being developed.
Why was it that your team was able to do it?
Because my educational background was in Physics and Biophysics, I was able to grasp the engineering requirements as well as the biological importance of flow cytometric instrumentation development.
Was someone else's work or influence fundamental in driving your work?
I had the opportunity to do my graduate work in the early 1960's under the mentorship of one of the pioneers in automated cytometry, Dr. Marylou Ingram at the University of Rochester. At that time her laboratory was focused on the automated recognition of blood leukocytes in collaboration with Dr Preston at Perkin-Elmer. The laboratory was also affiliated with Wallace Coulter, who provided both Model A and B Coulter Counters for application development in hematology.
How do you think your work impacted the field of Cytometry?
In the late 1970's and early 1980's, most flow cytometry research was focused on the measurement of only one parameter, DNA within the cell. This research was driven at that time by the realization that cancer cells generally had a higher DNA content than normal cells. Thus the measurement could potentially lead to an important clinical application of flow cytometry. During this same period, Leonard Hertzenburg had combined the sorting capability developed at Los Alamos by Mac Fulwyler with the interrogation capabilities of flow cytometry to develop what he called a Fluorescence Activated Cell Sorter (FACS). These two developments led me to go to Los Alamos to join the flow cytometry team. In collaboration with Dr. John Steinkamp, the first 8 parameter, 3 laser flow cytometer and cell sorter was built and tested. This was the start of my career in the development of the applications in multiparameter measurements by flow cytometry.

Carleton C. Stewart
Emeritus Director, Retired
Laboratory of Flow Cytometry
Roswell Park Cancer Institute
Buffalo, New York 14263