Paul climbed Mount Everest (see blog Mt. Everest Blog, pics and movies)with the team from Himalayan Experience led by Russell Brice. You can view a description and the itinerary for the expedition here. You can also read the current Everest expedition newsletter and sign up to receive newsletters.
Paul's blog is below and you can also see another blog from his climbing partners blog Bruce Parker, who climbed Manaslu with Paul.
Where is Paul?
04/03/09 Namche Bazaar (elevation 11,283 feet) heading off to Khumjung (12,660 ft).
04/02/09 First view of Everest. It is the 3rd day of our trek and I'm doing great so far. Today we climbed the hill at the back of town and saw Everest for the first time - awesome!! Amazing - who would want to climb it - it looks WAY too big!
The Manaslu expedition - photos are now at Manaslu

This page has been established to track my latest expedition. I was going to use a SPOT GPS tracker. However, the tracker is clearly not very good. It was unable to register the coordinates in 4 of the first 5 locations I used it (Indi airport, New York, Gdansk, Poland). It only registered Frankfurt airport! So basically its not very good and I would not recommend it. As is often the case, the advertising is a lot of hype. So you will have to rely on simple email reports.

If you want to read my opinions of some of the equipment I used you can go HERE . Some items failed entirely, others were great. These are of course, only my opinion from my personal experience. Since I am a professor and constantly grading students, I decided to give grades to my gear and the trip itself!

J. Paul Robinson, Professor, Purdue University

my Email: jpr[at]flowcyt.cyto.purdue.edu

my lab home page
This expedition is to Nepal - and a mountain in the Himalayas called Manaslu.
Our team was organized by
Himalayan Experience.
I gave them an
[A+ grade].
. Manaslu (see Wikipedia link at Checkout Manaslu) is a mountain in central Nepal which is one of the 8000 m peaks (8163 m).
Sunrise, Manaslu, Nepal, Himalaya. Photograph by Ben Tubby
Latest news
Sunday , Oct 12, 2008 (links to photos Manaslu)
Today I will arrive home in Indianapolis at about 11pm after flying from Katmandu on Oct 10 to Doha, then Frankfurt, New York and Indi. We were stuck on the mountain for a several days because of weather and having to wait for a helicopter. We eventually took a millitary heli out of Sama Gaon on Oct 10 at about 7am arriving in Katmandu about 8am. My flight to Doha was Oct 11.
Note added later:
I jumped over a large time warp - when I re-read this blog, I realized that I did not tell you what happened in between Sept 28 and Oct 4. Basically when the sherpas went up the mountain to find our camps, it turned out that camps 2 and 3 were gone. Both were under a ton of snow...actually tens of tons - about 10-15 feet as it happened. So we lost a bunch of stuff at both camps, including a large cache of O2, tents, stoves, and sleeping bags. Despite several attempts at rescuing the gear, they were way too deep and they simply could not dig down that far and get the equipment - and camp 3 just disappeared. So, we actually thought that this might be it for our summit attempt.
After a lot of planning by the team leaders, they worked out a plan of attack that would allow us to try to summit. We left on a 6 day summit bid resulting in us making it as I described below. It was touch and go on several occasions since there were no ropes from camp 3 up and our sherpas ended up putting in all new ropes right to the top.
Saturday, Oct 4, 2008
Well success- we summited on October 3 and just a few hours ago arrived after an exhausting several days at base camp. 4 of the original 8 members summited - 2 had to leave early and 2 others did not make it to the top - I am happy to say I was one who did make it! - Snow was incredibly deep and stressfully steep, but now we are back in BC we are just wanting to eat (virtualy nothing for last 3 days) and sleep (ditto). Because of the very bad weather prior to our summit, we are all delayed by a few days so wont get home on our original schedules. The few days rest will be worth while. It was very cold on the top and sleeping at 7400m was a challenge indeed. We left at 6am on summit day from 7400m to 8136m and then descended to camp 2 at 6800m making a very long day arriving around 5pm. Today we left camp 2 to descend to BC and that took a long 5 hours because of exhaustion and the fact that on the glacier the temperature was so high it was unbelievable. I am looking forward to some sleep and decent food! Just a couple of hours ago, our camp received an emergency request for assistance for a member from another team who was unconscious at 7400 camp - despite the fact that our Sherpas led the assault on the summit yesterday and descended right to BC - they took off at 1pm today back to camp 4 (7400m) to help bring the climber down. It amazes me that with all the teams on the mountain, it is always the HIMEX team that ends up going to the rescue!! There are plenty of other teams, but they all seem to be too 'tired' too busy, or too something.....I am glad I chose HIMEX frankly, their committment to their members exceeds to all extents any other team on the mountain. Amazingly they are also committed to the other teams as we led the assault on almost all issues - other teams made many commitments that they did not keep - putting more pressure on our Sherpas. Regardless - our team was very successful - great guides, great Sherpas and great leadership.
In case you were wondering my IPOD did work all the way up to 6800M - so I took it even higher - well, it died at 7400M and never came back to life...so I guess I now know what height an IPOD classic (160 gig) operating limitations are! Hopefully they will put a new disck drive in it - I guess thats why you take out a 3 year warranty!!
Sunday, Sep 28, 2008
Sherpas left at 2:50am today for Camp 2 - we are all ready to leave today for camp 1 - but Sherpas found no ropes left from camp 1 to 2 so they have spent all morning re-fixing ropes. Our ladder over crevices has gone - avalanche actually filled in crevice and ladders gone - no problems - just walk up the snow now! Today we are told to delay till tomorrow move to camp 1 to give Sherpas time to find camp 2 (thought to be under 3-5 M snow, and camp 3 which is somewhere higher up. Our Himex team has 9 strong Sherpas - so we are confident that they will do a great job getting us up the hill. Plans definitely now changing as we will all have to delay return flights - helicopter is broken till 9 Oct - and we will now be lucky to get to summit in next 5-6 days... So I will be delaying return to about 12 Oct.
Saturday, Sep 27, 2008
Well fancy that - great weather - sun all day - no clouds - amazing after 9 days of absolutely nasty weather, the change arrived. Camp is excited - we received excellent weather report for next week so we are now ready to go. Plan is to leave tomorrow for the mountains if above camps are OK.
Friday, Sep 26, 2008
Heavy snow overnight again - we spent several hours shoveling snow again today as most days now. It's the 9th bad weather day in a row. Discussion now around the table as to how long we can hold out - we need 6 days of good weather to move up and before we go, the slopes have to stabilize. We had planned to leave on the helicopter on 4th Oct, but we just heard that it is out of service so that makes it complicated. There are other services available from Katmandu I understand. We have an option to delay our departure if there might be a window of good weather - this could be an extra 4 or 5 days. We walked up about an hour today as we really needed some workout after being "rested" for past 9 days... Apparently the entire Himalayan range is under weather siege so it is not just our mountain. There is now a strong possibility that we will not make much more progress before we have to leave. Tomorrow we will get a new weather forecast about midday and that will be an important time for our decisions.
Thursday, Sep 25, 2008
8 days of continuous bad weather - sounds like the monsoon has not ended when it was supposed to (Aug). Many people on the mountain are leaving already - every day a group walks down and leaves - Camp 2 is now believed to be under 8 feet of snow - it will be hard work to dig out - we have about 7 tents somewhere under the snow - Camp 3 is worse - all our oxygen is there and its probably under the same amount of snow. The Sherpas tried to go up yesterday but could not go above camp 1 (which they had to dig out again - now about 6 or 7 feet of snow there). The slopes were avalanching all the time from 1 to 2 so they returned to BC.
Wednesday, Sep 24, 2008
Clear morning, but no sun yet, maybe later this morning. Sherpas will go to Camp 1 and try to re-establish route to Camp 2. We believe at least 1.5 m maybe more snow at Camps 2 and 3. Cant see our tents. They will have to find them under snow and dig out. Hard work. Better them than us. Leaders feel we will still have a shot at mountain yet. Weather clearing. Hopefully we will go up to Camp 2 tomorrow maybe Means we dont have time to properly acclimatize at Camp 2. Will be a 1-2-3-4 summit bid. Very hard but doable... Another team left base camp today to walk out. They ran out of time. We have 9 days left to make it - I hope we can do it. We are all very positive now that the weather is starting to clear.It was a long 8 days of miserable weather locking us into base camp....
Tuesday, Sep 23, 2008
Sun in AM - fantastic - maybe weather is breaking Snow by 10:30 am. Better than before I guess
Monday, Sep 22, 2008
Snow all day. Sherpas went to Camp 1 to see what was left. Found 1.5 m of snow. All tents crushed. They took all day to dig out. At least we did not lose tents or gear.... Weather is miserable.
Sunday, Sep 21, 2008
Sun this morning - fantastic - tried to dry out everything in tent - only lasted 3 hours and more snow. Locked into base camp is not fun at all... Reading lots of books. Nothing else to do.
Saturday, Sep 20, 2008
Wet, lots of snow - miserable...
Friday, Sep 19, 2008
Another rest day - lots or rain and snow both at ABC and on high heard at least 18 inches at Camp 2 forcing everyone to return to base camp - Sherpas will have to reopen route I suspect.... Gloomy and wet is all I can say - at the moment the tent is damp and nasty and smelly - but that is normal. No sun for 3 or 4 days now.
Thursday, Sep 18, 2008
A full rest day as previous (sleeping, eating, drinking and getting strength. Rained all day - in fact it has snowed or rained almost every day - hard to keep things dry in tent - Food at ABC is amazing - great cook who comes up with fabulous combinations every day - . Have nasty blister on right ankle - have been treating it with great respect - used big boots on trip to camp 2 which helped but back to trekking boots which have not been fantastic on feet - however, not a serious issue I think - rest days sure help feet (and all the goodies lab staff gave me to help as well - thanks guys - I owe you !!)
Today at breakfast we talked with team about strategy for last 2 weeks - been here now 3 weeks preparing for endgame - lots of options many determined by weather of course....questions is will be go for it soon or spend another 5 days acclimatizing at camp 2 or 3 - Sherpas have camps 2 and 3 in already and all stuff (tents, oxygen and mats) for camp 4 are already stored at camp 3. So talk was of another rest day tomorrow and possibly doing a camp 1, 2, 3, 4 summit bid (very hard to do, but all determined on weather at this stage.
My IPOD still worked well at camp 1 which is good - most seem to die at that altitude ....so have plenty to occupy self when resting (which is every minute it seems!)
Wednesday, Sep 17, 2008
Left camp 1 at 7:30am and was at ABC by 9am - record speed coming down - Breakfast was waiting (yes bacon and eggs!!) and rest of day was eating and sleeping and drinking lots of fluids. Had second shower (5 liters) today - felt very nice and clean - but when returned to my tent, I decided it was probably better not to be too clean and smell nice as tent just stinks! Might as well be same as tent!
Tuesday, Sep 16, 2008
We agreed to rise at 3am to leave for camp 2 by 4:15am - but a heavy snow storm overnight made it impossible....so waited till 8am to leave for camp 2 - Sherpas left at 5am regardless - they are amazing - and opened up the track for us. Very difficult terrain - mostly technical climbing - very, very steep and loooooong - All fixed ropes the entire way - across some nasty crevasses and up some ladders across a very wide crevasse - I made it to 6300m only (camp 2 is at 6400m ) the extra 100m was at least 1 hour and I did not have enough energy to go up and down...so I stopped at 6300 and descended to camp 1 totally exhausted . 2 others did not make camp 2 as well - but next time we have to make it ore else....... Returning to camp 1 was mostly rappelling down the steep slopes which is nice as it takes 30 seconds to come down something that took 20-30 minutes to climb! Back at camp 1 by 2:30pm and climbed into sleeping bag till tried to eat at 6:30pm (not much) and got at least a great nights sleep...
Monday, Sep 15, 2008
Today we left at 8am for Camp 1 - goal is to stay 2 nights at Camp 1 and possibly go as far as Camp 2 on second day then return to ABC - Took 5 hours to get to Camp 1 - again a long time - its still a hard climb even though its the third time have done it - at least we know the route now almost by heart.
Sunday, Sep 14, 2008
Full rest day - same hard work as last Thursday!
Saturday, Sep 13, 2008
Although we were very keen to descend we had to wait as weather not good - heavy snow overnight making dangerous crossing of glacier - so did not leave till 8am for ABC - and arrived by 10am where they had a wonderful breakfast of bacon and eggs ready for us - delicious! At least I can eat well at ABC - spent next 5 hours sleeping.
Friday, Sep 12, 2008
Weather not great today so we did not leave till noon for camp 1 to stay overnight for acclimatization. Took me 5 hours today to camp 1 - arrived at 5pm exhausted and then how to melt snow for water and cook our own dinner...not particularly hungry - with teammate Bruce we had completed our dinner by 6:30 and already for sleep... Camp 1 is about 19,000 ft and did not get a wink of sleep.
Thursday, Sep 11, 2008
Full rest day bed-tea brought to tent every day at 7am unless we leave earlier - nice to have tea in bed! since a rest day - breakfast at 8am, morning tea at 10, lunch at 12:30 afternoon tea at 4, dinner at 6:30 and bed by 8pm for sure - what a hard day!!
Wednesday, Sep 10, 2008
Breakfast at 5am today - then climb to camp 1 about 1000 m - took 4.5 hours - 1 hour up a scree (very rocky climb) then 3.5 hrs across the glacier. Arrived very tired - stayed 1 hour then back to ABC - took 2 hours down and very happy to be back at ABC - afternoon rest.
Monday Sep. 8, 2008
Today we woke to a few inches of snow - bad headache last night but gone this morning - sun was out and tents covered in snow - today the Sherpas held a special ceremony to bless all the climbers, sherpas and gear - a Lama from the village below came up and we sat there for about 2.5 hours as this went on for a long time....the Sherpas put out a huge line of traditional prayer flags - probably 400 plus meters in length - quite amazing. It was very relaxing sitting there mostly in the sun with Manaslu in the background - I think finally today I have acclimatized to 4700 m - tomorrow we will take a very short hike perhaps only 1/4 way to camp 1 and back. Today is also the first day we can have access to the computer - Russel Brice (our big boss) from Himalayan Experience (www.himex.com) has a very extensive setup with satellite phones, radio station for climbers, computers, solar chargers, you name it - it is very comprehensive indeed. I had no idea how much equipment is necessary for one of the expeditions.
For example, there is a dining tent for the climbers and guides and it has virtually every food you can imagine - huge containers of chocolates, candies of all nature, drinks, coffee, tea etc. Its open 24 hours and the cooks keep big flasks of hot water there all the time. We have two fantastic cooks who have produced super meals - and a lot of food. I suspect the idea is to fatten us up while we still have appetites!
Saturday, Sunday, Sep. 6-7, 2008
Mystery to me what happened today - I was not feeling well and don't recall much happening! Main thing we did was receive our radios and oxygen systems. We were instructed on use of the radios - every person on the team - 10 sherpas, 3 guides and 8 climbers have individual radios so that we are in constant communication with ABC and each other. I like this idea - it adds to the safety factor I think.
Friday, Sep 5, 2008
Push to ABC - we packed everything and climbed up the mountain side to get to ABC - a rather luxurious Himalayan Hyatt. Unfortunately it rained all the night before and so it was really slippery and nasty climb. Cross 3 or 4 rivers on the way and try to not step in the yak dung - but frankly that was a losing battle! Started snowing at 4000m and the last 700m (about 2 hours) was in the snow and quite slippery and on the chilly side - although not too bad. Again a team of porters carried huge loads up the hill faster than we did with small backpacks of only 5-10kg max. How the porters do this is a mystery - they are relatively small but very strong. One man carried 48kg up this incredibly steep slope. Over the past week, literally hundreds of porters have carried about 4000kg of gear need to attack one of these mountains. It took 7 loads on the helicopter from Pokhara to Sama Goan!
I ended up with a nasty headache from the altitude on Friday night and all day Saturday. Got no sleep at all - frankly it was miserable!! Tylenol finally did the trick.
Thursday, Sep 4, 2008
Rest day - we did absolutely nothing - and just as well as the climb to ABC was rather strenuous.
Wednesday, Sep. 3, 2008
Walked up the mountain to Advanced Base Camp (ABC) which is at 4700 m - this was a really hard walk and took about 4.5 hours rising 1200 m. It is literally a goat trail - lots of Yaks and a few horses - amazing how the yaks climb up these incredibly steep slopes. We had seen the porters walk up the mountain side the day before when about 60 porters left BC for ABC with 30+ kg loads.
Tuesday, Sep. 2, 2008
Went for a 3-4 hour hike up one of the mountains to about 4000m to acclimatize - was a little tiring but good to get the legs going again.
Monday, Sep. 1, 2008
Weather broke and we finally took the helicopter from Pokhara to Sama Goan - a small village below Manaslu. It was a 50 minute flight in a big old Russian military T17 cargo copter. We went from 950 m to 3550 m and followed the valleys all the way up the mountains. The goal was to camp for about 5 days for acclimatization.
Monday, September 1, 2008
We are still in Pokara. A heli took off at 6:30 and was back at about 10 and left with the second load of equipment - we don't know if we will fly out today or not - may have to wait another day. At least I have access to internet...there are 2 teams flying out and it will take 8 heli loads so we will wait and see what happens....
Sunday, August 31, 2008
The weather was not good today for the helicopter to fly - so only 1 or 2 flights went out mainly with gear to Base camp. We are in a hotel and enjoying the Nepali culture.....there are literally hundreds of trekking/gear shops here - they sell everything you could buy at REI in the states....except nothing is genuine - its all fake - and its very cheap!! Never seen so many mountaineering shops in my life - I suspect there are more in Pokara than in the entire USA - and same goes for Kathmandu....Wallmart eat your heart out - you don't have the monopoly on cheap Chinese goods!!
It is monsoon season..so storms all the time - we rented bikes for the day....walked across the street - a little man had a stack of brand new bikes - about 7 of us rented them for 150 R per day ($2) and we just left with his bikes...no ID check, no names ...nothing...amazing!! Rode around town found the Mountaineering Museum which is pretty nice. At about 4:30 the sky opened up and it poured for 90 minutes non stop...and then we hightailed it back to hotel in rivers of water on the streets (not exactly streets...mainly potholes within a confined area).
Saturday, August 30, 2008
We left Kathmandu airport on Saturday on Sita Airlines - basically a charter flight from Kathmandu to Pokhara - about 60 miles and about 50 minutes flight - but 6 hours by bus or car. we were taken to a small hotel in town. Pokara is the second largest town in Nepal I believe.
August 30, 2008 - Kathmandu
We went to the monkey temple today and to the temple where they burn all the dead bodies...lots of them...out in the open...it's a rather fascinating place...but anyway, they don't bury bodies...needless to say the smoke pollution is rather bad...
Also went shopping....made the mistake of actually buying something and was besieged by dozens of people trying to sell me stuff...unbelievable...walked about 3 or 4 blocks and they were still with me!!! prices are quite cheap for goods here....
And since it about 1am here in Kathmandu and we just left the bar...to go to bed....!! I guess I will miss talking to any of your this afternoon....we leave tomorrow at 12 midday to fly to Pochhara where will take a big ole Russian helicopter to Sama Gaon where we have our base camp...we will spend 4 days acclimatizing here before moving up the mountain.....be good, work hard, and above all have fun this afternoon and every Friday afternoon for the next 5 or 6 weeks whereupon, I will rejoin you for a huge bash on or before October 10. At worst I should be flying into USA on Oct 9th...
August 28, 2008 - Arrive Kathmandu
Arrived in Kathmandu at 8am via Doha and Frankfurt on Qatar Airlines which is a very nice airline I think. A very chaotic place indeed. There were more TV sets in the checked luggage than bags! Never seen so many TVs in checked luggage ever! Very casual airport - no nasty people yelling at you to stay in line or put your shoes in the xray....My climbing kit all arrived safely and managed to not have to pay excess luggage even tho' it was 10kg overweight. Since I traveled to a conference for the first 4 days, I left my luggage at Frankfurt airport where they have several places that you check in bags. It was very convenient. I went on to Gdansk Poland where I was a keynote speaker at a conference. It was a busy meeting and quite tiring actually. I then flow back to Frankfurt and collected my bags and flew to Kathmandu.
We were collected at the airport by the local Himalayan Experience team and went to the Hotel Tibet. It's really a beautiful old period hotel in true Tibetan style. We unpacked all our kit so that our guides Russel Brice and Adrian Ballinger could check everything out and then we repacked it and it has left already by truck for Pokhara. We will leave here on Saturday to fly to Pokhara. From there we will be helicoptered to base camp probably on Sunday.
The Hotel has nice internet connection so at least for a couple of days I can connect. Already 8 of the climbers are here, 2 more will arrive probably tomorrow.
The expedition schedule
Walking option:

Aug 28th Arrive Kathmandu, Nepal
Aug 29th Kathmandu (A)
Aug 30the Kathmandu by bus to Arughat (B)
Aug 31st Arughat trek to Siti Khola
Sep 1st Siti Khola – Machha Khola
Sep 2nd Machha Khola – Jagat (C)
Sep 3rd Jagat – Deng
Sep 4th Deng – Namru
Sep 5th Nmaru – Syala Gau
Sep 6th Syala Gau – Samagaon
Sep 7th Samagaon
Sep 8th Samagaon
Sep 9th Samagaon – Base Camp
...
Sep 30th Base Camp
Sep 31st Base Camp – Samagaon
Oct 1st Samagaon – Nyak
Oct 2nd Nyak – Jagat (C)
Oct 3rd Jagat – Macha Khola
Oct 4th Macha Khola – Arughat
Oct 5th Arughat drive to Kathmandu
Oct 6th Kathmandu
Oct 7th Depart Kathmandu


Flying option:

Aug 28th Arrive Kathmandu
Aug 29th Kathmandu
Aug 30th Kathmandu by bus to Arughat (A)
Aug 31st Arughat by helicopter to Samagaon
Sep 1st Samagaon
Sep 2nd Samagaon
Sep 3rd Samagaon
Sep 4th Samagaon
...
Oct 3rd Base Camp - Samagaon
Oct 4th Samagaon by helicopter to Arughat
Oct 5th Arughat drive to Kathmandu
Oct 6th Kathamndu
Oct 7th Depart Kathmandu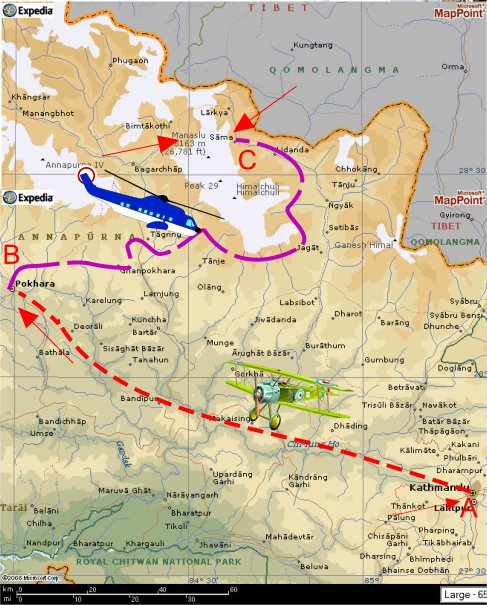 The expedition team
Guides

Russell Brice: New Zealander - Everest, Cho Oyo, Shishapangma summits
Hiro Kuraoka: Japanese - Everest, Cho Oyo, Manaslu summits
Adrian Ballinger: American - Cho Oyo, Ama Dablam

Sherpa's:Phurba Tashi Sherpa; Karsang Namgel Sherpa; Dorjee Sonam Geljen Sherpa; Lhakpa Nuru Sherpa; Lhakpa Nuru Sherpa; Nuru Gelzen Sherpa; Son Dorjee Sherpa; Nigma Chhiring Sherpa; Pasang Kami Sherpa; Lachhu Basnet (Cook); Kul Bahadur Magar (Cook boy). All these boys have been to the summits of Everest and Cho Oyo on numerous occasions
Members:

Jan van der Meer - Dutch
Christopher Jones - British
Stephane Louboutin - French
Heike Obermeier- German
Bruce Parker- American
Paul Robinson - American
Jan Smith - Australian
Jason Smith - Irish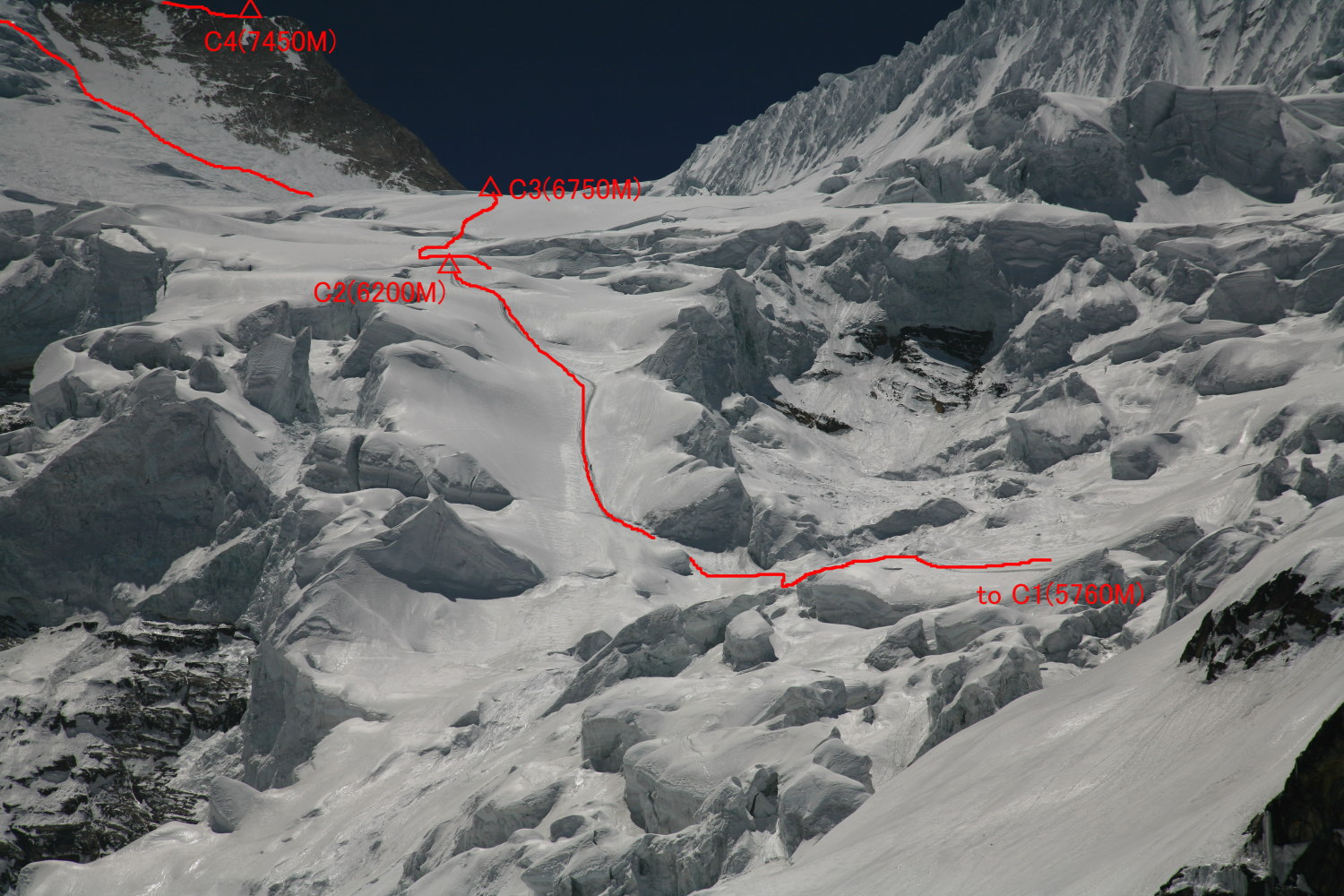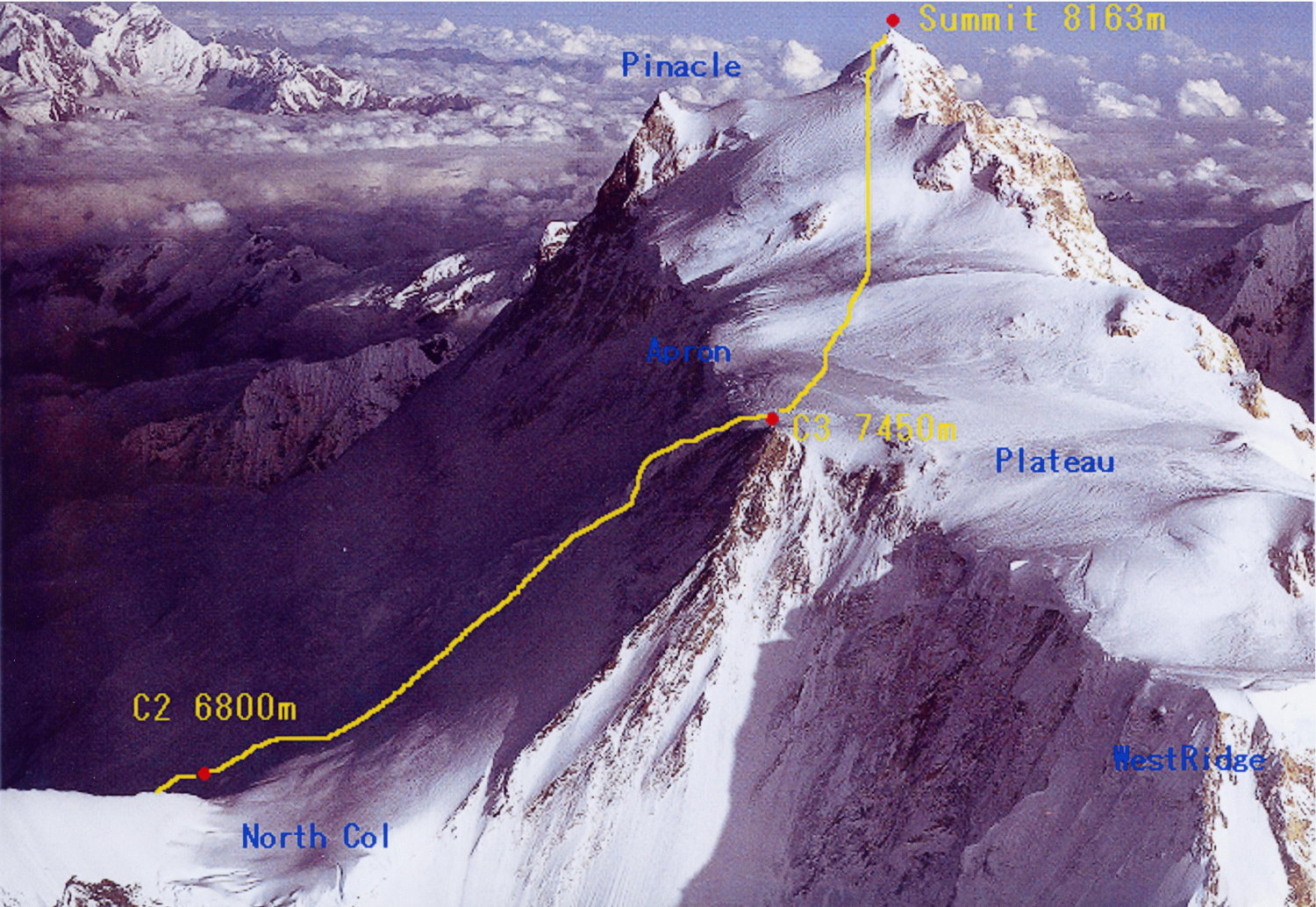 Some photos Manaslu photos from web
More photos are now at Manaslu