Methods for General Cell Labeling
The in vitro general cell labeling procedure can be used for monocytes, macrophages, lymphocytes, and other cells in suspension. Cells grown on the surface of tissue culture vessels may be stained in situ but heterogeneous staining may result. For homogeneous staining, adherent cells should first be suspended with a proteolytic treatment (e.g., trypsin + EDTA). Figure 3 represents the protocol schematically.


A 2x cell suspension and a 2x dye solution, both in the PKH diluent supplied with the kit, are mixed and incubated briefly at room temperature. The labeling reaction is stopped by addition of protein (medium with serum or BSA). Labeled cells are washed 3-5 times to remove unbound dye. General cell labeling should be performed prior to monoclonal antibody staining to avoid capping the antibody with the dye.


Table 4 gives cell and dye concentrations that have been used successfully for many different cell types. These concentrations may suggest a starting point when you determine the optimum labeling conditions for your cell type and experimental purposes. Optimization is a simple process of determining the dye concentration that gives the best balance of fluorescence intensity and viability (or other measures of cell function).


References
Samlowski, W.E., et al., J. Immunol. Methods, 144, 101 (1991).
The patented PKH dye technology, developed by Zynaxis Cell Science, is now owned by Phanos Technologies.
Horan, P.K., et al., Methods in Cell Biology, 33, 469 (1990).
Slezak, S., and Horan, P., J. Immunol. Meth., 177, 205 (1989).
Hatam, L., et al., Cytometry, 16, 59 (1994).
Unpublished data, Zynaxis, Inc.
Horan, P., and Slezak, S., Nature, 340, 167 (1989).
Yamamura, Y., et al., Cell. Molec. Biol., 41, S121 (1995).
Wallace, P., et al., Cancer Res., 53, 2358 (1993).
Hendrikx, P., et al., Exper. Hematol., 24, 129 (1996).

Texas Red is a Trademark of Molecular Probes, Inc.

Cy is a Trademark of Amersham Life Science, Inc.
Figure 3
Standard protocol for PKH dye labeling with Sigma kits.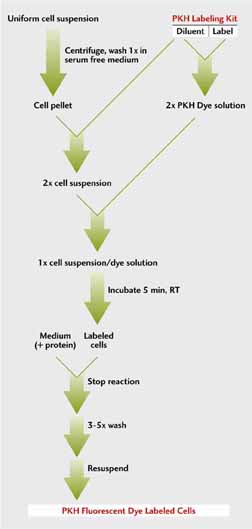 Figure 4
Typical optimization data for PKH dye labeling protocols.9 (Reprinted with permission)