This material was originally published in the Purdue Cytometry CD-ROM Series

.

Applications of Flow Cytometry to

Macroalgal Biology
---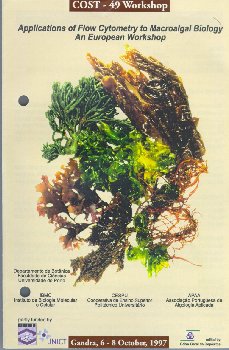 Background info:
This workshop was organized by Olga M. Lage, Filipe Sansonetty and Isabel Sousa Pinto with the collaboration of the Associacao Portuguesa de Algologia Aplicada. The workshop is sponsored by several institutions and companies, namely through the placement of equipment.
Aim of workshop:
This workshop was intended:

1) to familiarize macroalgae phycologists with both theoretical and practical applications of Flow Cytometry
2) to promote an open discussion on how FCM applications may be useful to macroalgae phycologists
Pictures from the Workshop..
Slides from the Workshop...
All FCS data files from the Workshop...
---
| Facility Infomation | Email Archive | Web Sites | Organization and Meetings |
| Home | CD-ROMs | Research | Education | Email Us |